---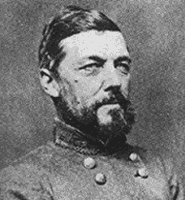 Before the Storm:
The Civilian Adjunct to Draytons
---
The Civilian adjunct is an opportunity for progressive civilians to have some immersion experiences while at the Antietam 140th reenactment. This event will consist of a select number of civilians with a few of them meeting up with Drayton's Brigade early Friday afternoon and following the march to the event (approximately 3 miles), and an opportunity for more participants at a first person area on property adjacent to the main event. The first person area will consist of an open area where any registered participant (for this aspect, as main event registration will not cover insurance on this property) is free to come and go in a period appropriate manner. The standard will be that first person is maintained at all times while in the first person area. There will be a nominal fee to cover insurance costs for the adjacent land with all proceeds going to preservation. Anyone who is interested in this will have to contact Laura Harding and/or Kathleen Musser. The scenarios for the two aspects are below.
The March - For this the number of participants will be limited to 10-15 civilians. These participants will be portraying a few families from the Boonesborough and Keedysville areas (see family pod lists for details). These families will meet up with Drayton's Brigade as they are marching towards the event from St. James School. These families will then follow the march to the event and from there will break off to the first person area. First person will be maintained while on the march.
The First Person Area - The scenario for this will be the existing families from the march meeting up with several families refugeeing from Sharpsburg. All of these families will be together trying to avoid the conflict that is happening around them. Anyone here is open to come and go as long as they have period reasons for where they are going or coming from.
Family Pods from areas other than Sharpsburg:
These will be the pods that will follow Drayton's brigade on the march. Please email Laura Harding with your preference:

Family from Boonsboro, seeking son/brother whom enlisted the 2nd VA Infantry, Company B at Shepherdstown at the beginning of the War. Upper Middle Class family, with divided loyalties. Cabinet Makers. 3-5 Members;

Family from Keedysville, working as laborers on the Felfoot Farm. Southern loyalty, this family assisted CS Cavalrymen obtain new mounts from the area after the engagement in and around Boonsboro. Fearing their Union employer would inform Federal authorities the fled following CS forces. Lower Class, 4-6 members; or

Irish Family, unemployed Armory Workers from Harpers Ferry. Very Unionist, they were living in Sandy Hook and started to follow the Federal Cavalry as it escaped the Ferry, but lost the column. Very angry at the war and loss of employment. Destitute. 2-5 members.
These are the families from Sharpsburg that will meet the refugees at the "Manor Church" Area.
Lower Middle Class Farmers from south of Sharpsburg with Union Loyalties. 5-7 members;

Middle class Tavern Keepers with Southern Loyalties, but adaptable. 3-4 members;

Lower Class Mill Workers with Union Loyalties. 3-4 members;

Low Class Workers employed by Pod 5. Union Loyalties- 2 members;

Middle Class School teacher/family with Union Loyalties, 1-3 members; or

Middle Class Family, Preachers Family, Southern Loyalties, 4-6 members.
---
Civilian Standards / Civilian Registration / Links
---
---
Last updated 21 July 2002 at 1245 hrs.